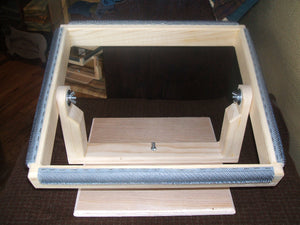 Rug Hooking Frame
Inside dimensions are a generous 12 x 14 inches. Frame completely tilts forward and backward, rotates 360 degrees, and collapses flat for easy transport or storage.

Finely sanded clear wood construction with doweled joints (includes lap plate). Gripper strips are off set towards the sides which grip better than when positioned on the top.

Frame is very comfortable on your lap - after years of hooking using the Puritan frame on a floor stand, and trying a few others along the way, I designed this frame. It is very comfortable on your lap. The distance between the lap and the frame is perfect which eliminates stress to your shoulder and neck muscles.
A great frame for beginners or to use for travel.