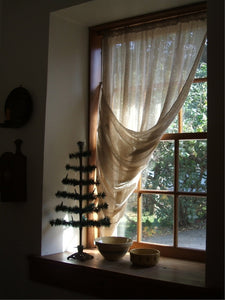 Tobacco Cloth Curtains
Our tobacco cloth curtains are hand-woven in the USA.  

Tobacco cloth is a lightweight, thin loosely woven fabric with cotton in plain weave similar to cheesecloth. Used as shade covering for tobacco plants, crinoline, tea bags, bandages and curtains etc... Tobacco cloth is a very old fabric with a lot of whimsy. Try hanging cloth on a piece of jute instead of a rod. A great primitive look!
Can be used at loom state and dry-cleaned or soak in cold water and air dry for a crinkled more primitive look. For maximum shrinkage wash in warm water and dry in warm dryer. Tab on bottom of panel for left or right tie up.
Three panel length choices plus pin-up valance:
46"x54" Loom state size - Good for 45" window

46"x72" Loom state size - Good for 63" window

46"x93" Loom state size - Good for 84" window